28 Best San Diego Skateparks
A skateboarder in San Diego is a kid in a concrete candy store. California's first skatepark opened in Carlsbad in 1976 and to this day San Diego boasts some of the best skateparks in the country – and some of the best weather for taking advantage of them.
San Diego's skateparks include public parks and privately owned facilities, and range from small pocket parks to sprawling concrete complexes. Some were made by professional skatepark park design companies and others were grassroots projects patched together by determined locals.
Below, I'll give a rundown of San Diego's parks with each park listed in alphabetical order.
In case you are looking for a quick recommendation, my favorite parks in San Diego are Alga Norte, City Heights, Encinitas Skate Plaza (Poods), Linda Vista Skatepark, Vista Skatepark, and Memorial Skatepark, all of which offer a variety of high-quality skate terrain, including street plazas and bowls. While it doesn't have a bowl, Cesar Solis Skatepark in southern San Diego county is a really fun park as well.
The other parks on the list below are great, but these are destination parks, any of which warrants a trip to San Diego.
Alga Norte Community Skatepark
Alga Norte Skatepark is first on the list and is one of San Diego's premier skateparks. Located in Carlsbad, the skatepark features two large bowls and a street plaza with features for skaters of all skill levels. The street plaza includes rails, banks, fun boxes, steps, and many other features to ride. Bikes and scooters are prohibited.
For more detail, check out our complete guide to Alga Norte Skatepark.
Carmel Valley Skatepark
Carmel Valley Skatepark is located in Carmel Valley, just east of the I-5 and north of the Highway 56 connector. The 13,500-square-foot skate park includes a combi bowl with a vert deep end and a street plaza with transition features mixed in. The combi bowl is pretty burly, especially the deep square bowl, which looks to have a foot or so of vert and very little flat bottom.
Central Avenue Mini Park
Central Avenue Mini Park is a 6,300 square-foot skatepark in San Diego's City Heights neighborhood that includes a street plaza with a few transitioned elements. The park is just across the highway from the larger and newer Park de la Cruz (see below).
Cesar Solis Skatepark
Cesar Solis Skatepark is an outdoor concrete street plaza-style skatepark in the southern San Diego neighborhood of Ocean View Hills. This park is really well designed with features ranging from large to small, so there is something to suit every style of skating. The most distinctive feature is a whale-tail-shaped ramp/rail combo that anchors the center of the park.
Chicano Park Skatepark
Chicano Park Skatepark is situated in San Diego's Barrio Logan neighborhood in Chicano Park, famous for its murals depicting Chicano culture. The DIY skatepark includes a range of street features, including a low-rider quarterpipe box.
City Heights Skatepark
City Heights Skatepark is a 19,000-square-foot concrete skatepark in the City Heights neighborhood of San Diego. Also known as Park de la Cruz Skatepark, the skatepark offers a backyard pool-style bowl and a large street plaza/flow section that's jam-packed with fun and unique features.
Encinitas Skate Plaza (aka Poods)
Encinitas Skate Plaza is a 34,000 square-foot skatepark in Encinitas, California, that features a large street plaza and a vert bowl. The park is also known as "Poods" in honor of Ian Barry, an Encinitas skater who went by the nickname "Poods" who was killed in a fall from a cliff in nearby Leucadia. It's a massive park, fitting for a community filled with board sports enthusiasts.
Eucalyptus Skatepark
Also known as Chula Vista Skatepark or Len Moore Skatepark, Eucalyptus Skatepark used to be a Boys and Girls Club, but was taken over by the City of Chula Vista in recent years. It's an expansive park, with a big street plaza, bowl, and "bank plaza."
Fallbrook Skatepark
Fallbrook Skatepark is an outdoor concrete skatepark planned for construction in the North County San Diego town of Fallbrook. Designed by Spohn Ranch Skateparks, the park has completed the design phase, and construction on the park is expected to begin in the fall of 2022.
Imperial Beach Skatepark
Imperial Beach Skatepark is possibly the furthest south skatepark on the West Coast of the United States. This 7,500 square-foot concrete park includes a small flow bowl and street plaza. This is a fun skatepark if you happen to be in the area. The bowl is 3 feet high and has extensions and a clamshell pocket. It's a fun, mellow bowl – a great place to learn to bowl skate, if you're looking for a place to get started.
Kimball Skatepark
Kimball Skatepark is a 10,000 square-foot concrete street plaza skatepark located in National City, a town in San Diego County, California. The park offers a range of street skating features, including stairs, handrails, flat rails, hubbas, quarterpipes, hips, banks, a Euro gap, and more.
La Colonia Skatepark
Real estate along San Diego's coastline is so expensive that it's surprising when a chunk of land west of the I-5 gets used for a skatepark. At 5,500-square-feet, La Colonia Skatepark is Solana Beach isn't huge, but what it lacks is size, it makes up for in quality. This is a sweet little street plaza with a few transition features, including the quarterpipe bowl combo picture above.
Lakeside Skatepark
The coast isn't the only place you'll find skateparks in San Diego. Lakeside Skatepark, also known as Lindo Lake Skate Park, in Lakeside, California, is a 15,000 square-foot park built next to a lake in Lindo Lake County Park. The park, which opened in 2014, includes a backyard-style pool and an open street plaza, with banks, rails, steps, and other features. This is a full park that's well designed.
La Mesa Skatepark
La Mesa Skatepark is a concrete skatepark in the east county San Diego town of La Mesa, California. The park features banks, quarterpipes, and various street plaza elements.
Lemon Grove Skatepark
Lemon Grove Skatepark is a 3,500 square-foot concrete park in the San Diego county town of Lemon Grove, California, that is packed with a range of street plaza features. It's a small park and gets crowded after school and on weekends.
Linda Vista Skateboard Park
Linda Vista Skateboard Park is a 34,000-square-foot masterpiece of a skatepark, featuring four bowls of varying sizes, a full pipe, and a massive street plaza and banked flow section. This is one of the best skateparks in San Diego…and the country. The park, located in Linda Vista Community Park, is free and open to the public. Skateboards, scooters, and roller skates/inline skates are allowed in the park. No bikes.
Mission Valley YMCA Krause Family Skate and Bike Park
The Mission Valley YMCA skatepark is a sprawling action sports complex featuring a big vert ramp, mini ramp, street course, BMX course, concrete pool, and the country's only skatercross racing track, designed by pro skater Andy Macdonald.
MLK Skatepark
MLK Skatepark is a 6,000-square-foot concrete park in Oceanside, California, that features a multisection flow bowl and street plaza. For its relatively small size, MLK packs in a lot of features including mini-ramps, a bowl section with pool coping, and street features that include ledges, flat rails, hips, banks, and more.
Memorial Skatepark
When it first opened in 2004, Memorial Skatepark was arguably the best park in San Diego. It's still one of the most comprehensive, offering a big street plaza, keyhole bowl, 90-foot snake run, and a beginners bowl. Located near downtown San Diego, this is one of San Diego's most popular skateparks. The street plaza recently got some repairs and a new paint job. Definitely worth a visit.
Olympus Skatepark
Olympus Skatepark is a pocket park in Encinitas, California, with a fun mini bowl and mini snake run. The skatepark is part of the larger Olympus Park, which makes it a fun place to hang out with kids beyond just skating the bowl and snake run. If you are looking for a full-scale skatepark in Encinitas, see Poods below.
Pacific Highlands Ranch Skatepark & Pump Track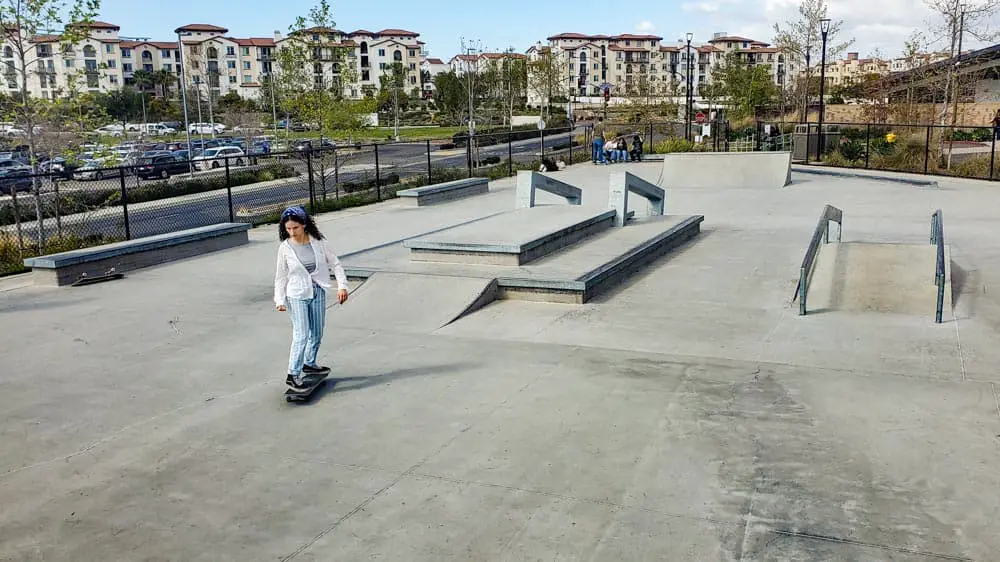 Located off the 56 connector in North County San Diego, Pacific Highlands Ranch's Community Park is home to a skatepark and pump track. Both were designed and built by Spohn Ranch Skateparks and are made of concrete.
They are public parks, open to the public, and free to ride. Bikes, skateboards, rollerskates/inline skates, and scooters are allowed.
Pacific Highlands Ranch Skatepark
The skatepark, which opened in 2019 and is located right next to Pacific Highlands Ranch Community Center, is a 6,000-square-foot concrete and steel street plaza.
Features featured include three small quarter pipes (~4 feet high), a fun box with handrails and a manual box, several grind boxes/ledges, a wedge with rails, and other odds and ends.
| | |
| --- | --- |
| Address | 5977 Village Center Loop Rd, San Diego, CA 92130 |
| Cost | Free |
| Phone | (858) 538-8184 |
Pacific Highlands Ranch Pump Track
The 20,000 square-foot pump track, was constructed in 2018, and is open to bikes and scooters in addition to skateboards. The facility features two fun concrete pump tracks that are smooth and fast.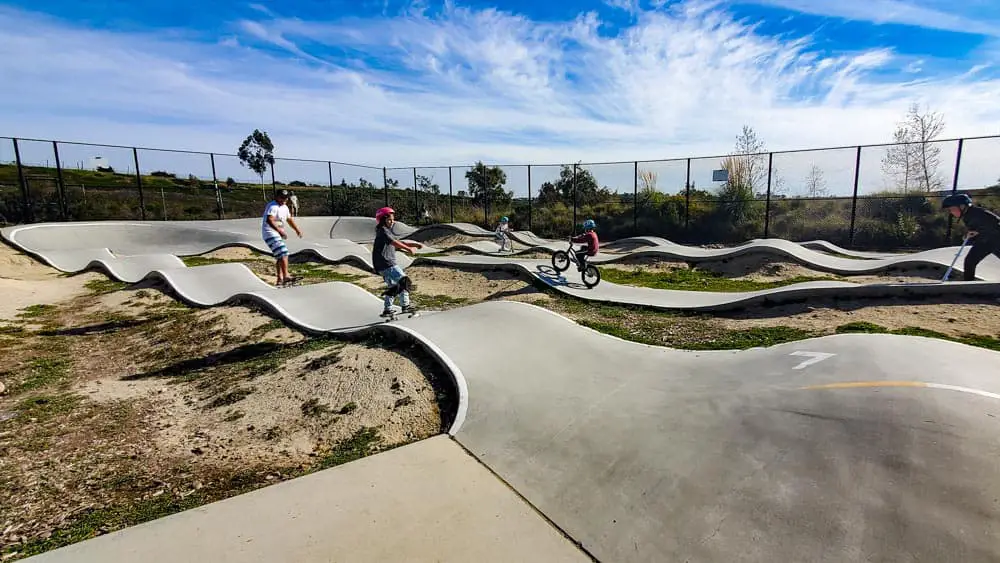 The tracks are set up for one-way travel so that riders travel around them in a single direction to avoid head-on collisions.
This is a fun park for flowing around the tracks berms and rollers. It gets busy on weekends. (As a side note, show me another public parks investment that gets so much regular use by such a wide variety of people. More pump tracks!)
For more information, check out the full guide to Pacific Highlands Ranch Pump Track on OutdoorSoCal.com
Poway Skatepark
Poway Skatepark is a 14,400-square-foot concrete skatepark park located in Poway Community Park. The park features two distinct sections, a snake run bowl — for lack of a better term — and a banked flow section/street plaza. This is a popular park that's fairly compact, meaning it can feel pretty crowded on weekends. Skateboards, bikes, and scooters are all allowed.
Prince Memorial Skatepark (aka Alex Road Skatepark)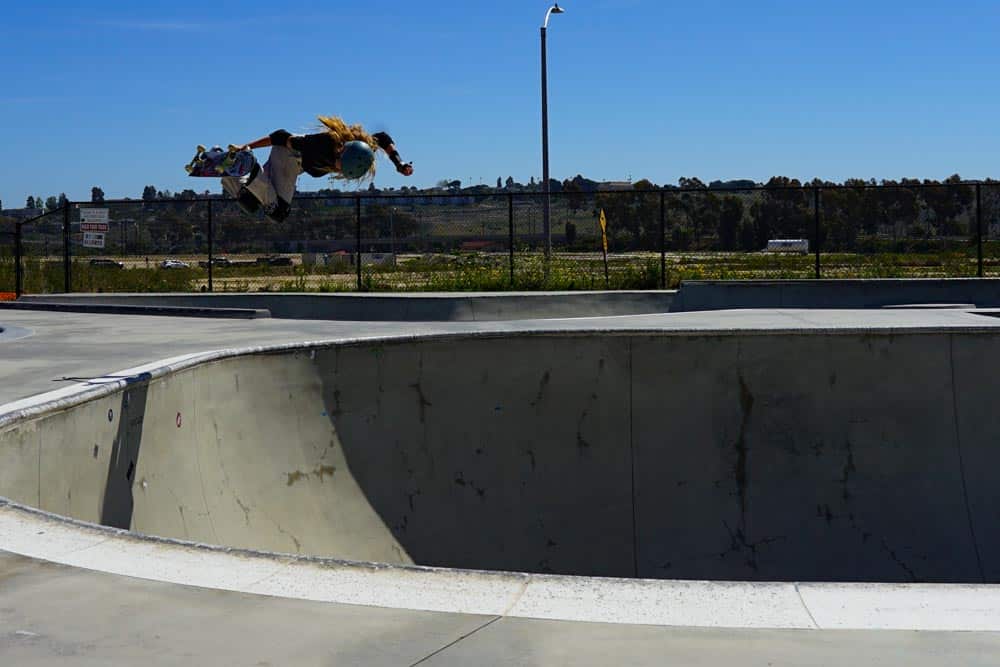 Prince Skatepark in Oceanside, California, is a 22,000 square-foot concrete skatepark that includes a small street plaza, vert bowls, and flowy snake runs. Also known as Alex Road Skatepark, the park is popular among locals and visiting pro skaters alike, especially bowl aficionados.
Rancho Penasquitos Skatepark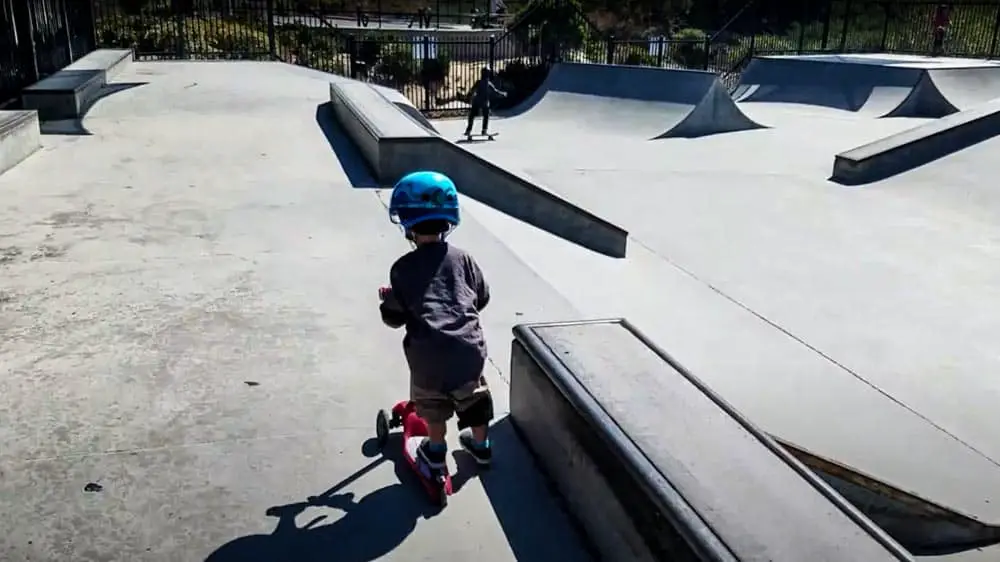 The Rancho Penasquitos Skatepark is a 22,000-square-foot park that offers a large street and bank plaza and a mini-ramp with a spine, all made from concrete with steel coping. The plaza includes handrails, bank ramps and grind boxes, double-sided hubba grind ledges, high to low banked hip, banked hip with a gap, an angled manual pad, and a manual pad.
Vista Skatepark
Vista Skatepark is actually two parks. Located in the North County San Diego town of Vista, these parks were built in 2017 and collectively represent around 22,500 square feet of skateable space. One park is a street plaza and the other a bowl park with two skate bowls. Designed by Grindline, both sites are super fun to skate.
Washington Park Skate Spot (Escondido)
Washington Park Skate Spot is a 7,500-square-foot concrete skatepark in Escondido, California, that offers a street plaza with banks, stairs, handrails, ledges, and other features. While fairly small and busy at times, this is a fun little park that's worth a visit if you are in the area.
Washington Street Skatepark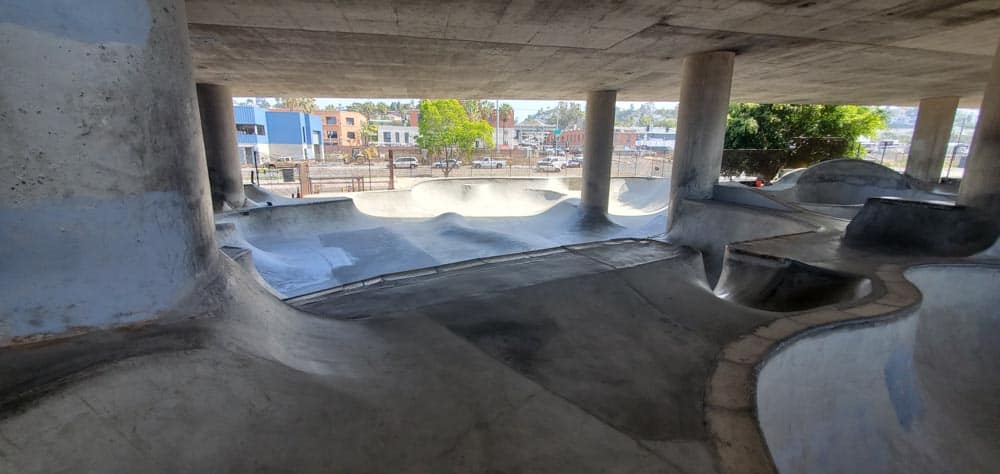 Washington Street Skatepark is San Diego's answer to Portland's legendary Burnside Skatepark. Located under a PCH overpass near San Diego International Airport, Washington Street is a homespun concrete skatepark built by skaters for skaters. The park features a maze of bowls, spines, hips, spines – even an over-vert capsule. This is a burly park, a throwback to skateboarding fringe years in the wilderness, and riders should expect weird kinks and challenging lines.
Future San Diego Skateparks
Fall Brook Skatepark
Spring Valley Skatepark
San Diego Skateparks FAQs